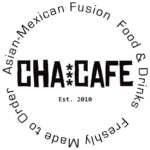 Website Cha Cafe
Asian Mexican Fusion
Hello and welcome to Cha Cafe!! 🙂
We are experiencing fast growth and are hiring Front of House Team Members for our location in El Monte.
We are looking for a HARD WORKING and ACCOUNTABLE person who can be part of our TEAM as a Server. Your job will be to give the best service possible for take out orders. During any downtime you must be cleaning and helping prep in the BOH.
Skills needed:
Restaurant experience preferred
Great customer service
Make Drinks (Boba, Smoothies, Mojitos etc..)
Be a Clean Freak
Be able to stand for 6 hours
Be able to lift 30 pounds
Be able to multitask under pressure
Be able to bring a smile to our guest
Be able to speak & read English to explain the menu items
Qualifications:
High School Graduate
Food Handlers Certification
Reliable Transportation
We are looking for someone to start right away. This is a great and stable job for someone who is great and stable themselves.
If you would like to work with us and meet ALL of our qualifications please come in person to fill out an application. Please food Covid guidelines mask will be required and keep social distance.
Cha Cafe10308 Lower Azusa Rd
El Monte, CA 91731
Closed on Sundays
ChaCafe.com
-Equal Opportunity Employer-
Job Types: Full-time, Part-time
Pay: Starting From $14.25 per hour
COVID-19 considerations:
All customers and employees are required to wear a mask, curbside pickup available, common surfaces are sanitized regularly.