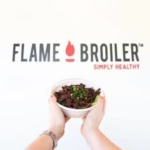 Website Flame Broiler
Flame Broiler Wants YOU
Looking for a Manager for Nights and Weekends.
We are a small restaurant, 1200 SF, with 8 employees.
You will be responsible for leading team, driving evening operations including kitchen and dining room of all team members as well as administration duties.
Two weeks of training to learn system.
Must have restaurant experience and LOVE the restaurant business!
*40 hours a week
*Paid Time Off
*Meal plan
*Growth Opportunities