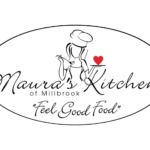 Website Maura's Kitchen of Millbrook
Feel good food & drink, made with love!
As a prep cook, you will be responsible for
– Preparing vegetables and ingredients for soups, sauces, salads, side dishes, appetizers, desserts, bread baskets, etc.
– Setting up your workstation with fresh ingredients, as well as checking for freshness of prepared ingredients.
– Keeping a clean and organized workstation throughout your shift.
– Properly reading tickets and executing the items for your section. Some items include dips, small/large salads, baked potatoes, bread baskets, assorted desserts and already prepared appetizers/entrees that require use of a microwave/oven (no stove, fryer or grill use required).
– Communicating with the chefs regarding the prioritization of tickets and completion of items in your section.
– Cleaning up your station after service, wrapping/labeling ingredients for overnight storage, putting soups/sauces from steam table into fresh pots and refilling them for the following day.
Shifts would include some weekdays, some weeknights and at least one weekend shift. If you're looking to work, we will compensate you well above minimum wage for having a strong work ethic, reliability & willingness to work. We're looking for SERIOUS applicants only. It's extremely difficult for restaurants to find employees right now, especially in the back of house. Please be respectful of our small family business & only apply if you plan on following through with the application process.