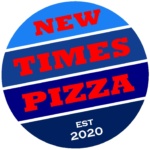 Website New Times Pizza
It's the taste!
Pizza Cooks needed! This is a New and very small take out Pizza place. Our Cooks also wash dishes, clean, mop floors, cut vegetables and other food preparation etc… just like the owner does.
This does take a bit of hand skills as we press the dough by hand, no rolling or cutting. It's a fun job making Artisan upscale Pizza.
Pay is based on experience. Skilled cooks start around $20 where as Hires without kitchen skills that require a great deal of training start around minimum wage. We also provide free meals and cash tips!
Right now this is P.T. evenings as we are open 3-9 daily. As soon as the Health Department gives us permission to have indoor seating, we will be opening for some lunches and have at least one full time position available for a Supervisor/Head Cook.