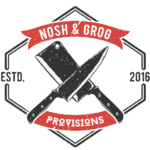 Website Nosh & Grog Provisions
gastr
Are you more than a "bartender"? We are looking for a bartender who loves their craft as much as they enjoy connecting with people. We measure every pour for perfectly balanced drinks and consistency. This is your chance to work with the best craft beer list and an elevated cocktail program.
Nosh & Grog is the neighborhood gastropub – a place to gather with friends and family in an unrefined, on-trend, social space over kick-ass food and drink.
Great Tips and Great People.
We have a killer team and hope to find people with qualities that reflect the atmosphere here – fun, friendly, and genuine. Be prepared to accept help and to lend a hand; to laugh with us and probably at us; and to admit mistakes but also revel in our mutual success. We work smarter, not harder, and fast, but never sloppy. Get ready to move as we are a fast paced, high volume spot – a sense of urgency is key, though we prefer purpose over speed any day.
Responsibilities:
• Help train waitstaff on drink knowledge
• Connect with guests
• Maintain high standards
• Lending a hand to other employees to make sure we truly function as a team with the highest level of respect for one another
Benefits :
• Flexible schedule
• Health Care Benefits for full-time
• Staff discounts
• Average shift 3pm -10/12pm depending on the day of the week
• No lunch, no brunch, no late-night – just one shift where we work hard and work together
Open 7 days a week with a dog-friendly patio!
We hope you apply to meet with us and get to know more about the environment here at Nosh and have an opportunity to meet the fam! If nothing else, let the possibility of puppies encourage you to apply…
Please include a cover letter telling us why you may be a great match.
Job Type: Full-time