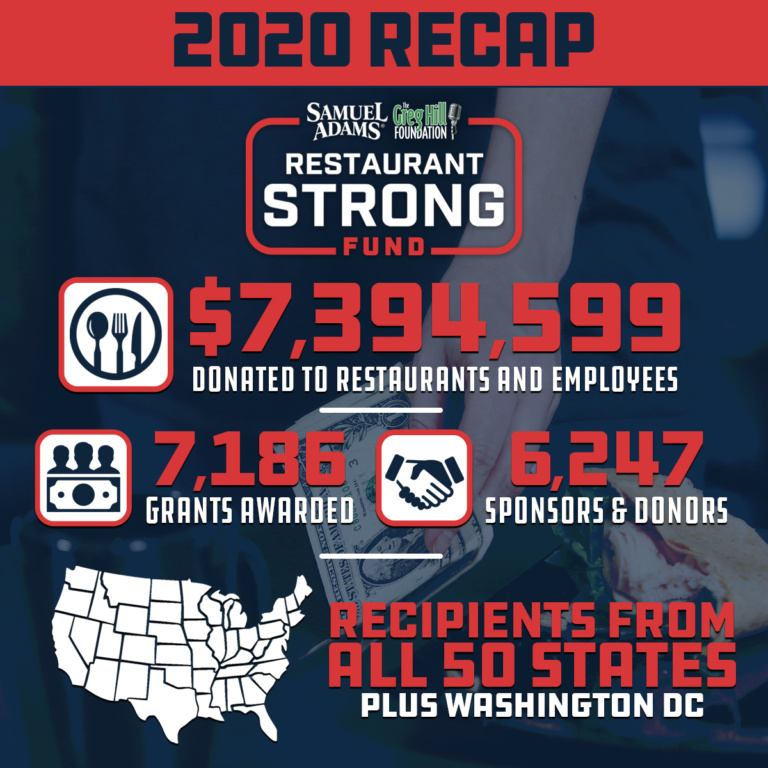 In 2020, The Greg Hill Foundation launched the Restaurant Strong Fund with its Partner Sam Adams. The fund was created to assist restaurant employees who had reduced hours or were laid off due to Covid-19. The fund provided grants of $500 or $1,000 directly to employees as it sought to replace lost wages and hopefully bridge the gap until they were able to get back to full capacity. As Covid-19 continued and more and more restaurants and employees were impacted we decided to take the fund nation-wide to help as many people as possible. The support the foundation received was amazing and throughout 2020 the fund was able to donate $7,394,500 to 7,186 recipients in all 50 states plus Washington DC.
Although impactful, the work is certainly not done. As we now look forward to 2021, we are determined to continue to support restaurants and their employees as Covid continues to negatively impact their businesses and livelihoods. To further support, The Greg Hill Foundation will launch the 2021 Restaurant Strong Employee grant program and provide grant donations up to $1,000.
Since the last time our grant application was open, a lot has certainly changed. Applicants have become both employed and unemployed, living situations have changed, and the needs of applicants have changed as well. In order to properly award new grants to recipients, we are altering our application opening them back up to individuals who have not received a grant to date. We will initially collect 5,000 applications and award grants on a rolling basis, determined by funds raised and the need of the applicant. The application will open on February 9th and will be closed once 5,000 applications are entered. Below please find the eligibility requirements for the 2021 Restaurant Strong Employee grant.
Not have received a Restaurant Strong grant previously

Complete the application form in full along with providing all required documents

Have been employed by a restaurant in 2020

Provide an appropriate explanation for the need of a grant

Provide an explanation of what the grant would be used for

Live in the United States of America
Support The restaurant strong fund
The Greg Hill Foundation's Restaurant Strong Fund seeks to provide $1,000 grants directly to restaurant industry employees and owners who have been impacted by Covid-19 across the U.S.
There are more than 1 million restaurants in the U.S., home to more than 15 million employees nationwide who are especially vulnerable to the effects of Covid-19 closures.
During these unprecedented times when many establishments are forced to close their doors for the greater good of our community, the Restaurant Strong Fund stands with restaurant workers who have had our backs for so many years, from serving our favorite drinks to celebrating life's most memorable moments with us.
Please consider making a donation to support.