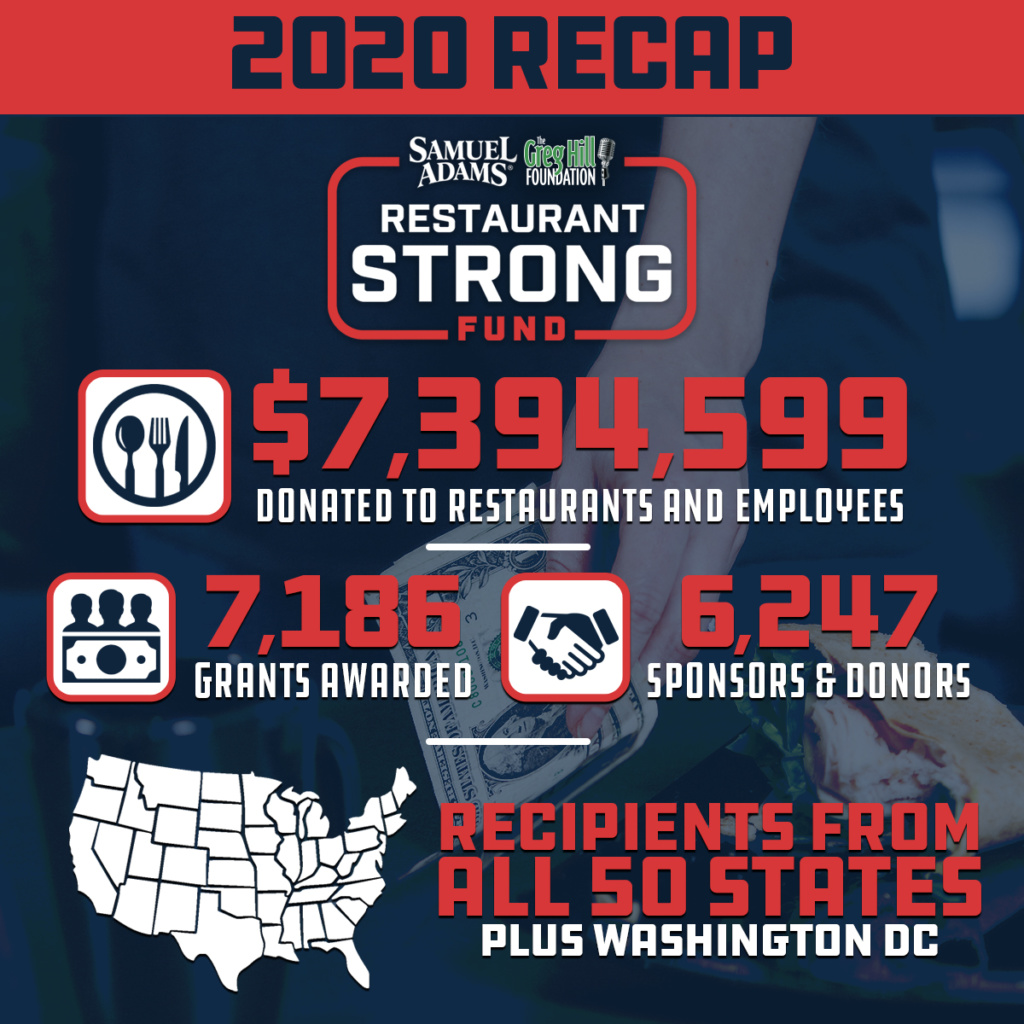 In 2010 The Greg Hill Foundation launched the Restaurant Strong Fund with its partner Sam Adams and Boston Beer Company. The fund was created initially to assist restaurant employees who had reduced hours or were laid off due to Covid-19. The fund provided grants of $500 or $1,000 directly to employees as it sought to replace lost wages and hopefully bridge the gap until they were able to get back to full capacity. 
As Covid-19 continued and more and more restaurants and employees were impacted we launched the Winterization Grant in partnership with Grub Hub to provide $10,000 grants to restaurants to assist in outfitting their outdoor patio spaces and keeping their doors open throughout the colder months. 
The amount of support we received was tremendous and thanks to the over 6,200 sponsors and donors we were able to donate $7,394,500 to 7,186 restaurants and employees. Grant recipients were nationwide and we were able to award a recipient in every state. We are blown away by the support and extremely grateful for all of our donors entrusting us to help the restaurant industry. Take a look below at some quotes from our beneficiaries and our top donors to the fund.
Hear from some of our beneficiaries
"This grant brought tears to my sister and I. We have been a community staple since 1957 when my father started our family owned business. This grant has allowed us to keep the current employees we brought back on this summer and to give them an opportunity to earn a little during the holidays. I cannot tell you how opportune this grant was!"
I would like to thank you for the assistance in these hard times! The money you sent me will help so much this month and you've really blessed me. I received the check and just deposited it in my bank account. I can't thank you enough for your assistance and consideration. Please let me know in the future however I can support Restaurant Strong in any way I can.
"This grant is a lifesaver! It will allow us to continue serving our customers and keep our kitchen and dining room employed through the winter. It's not a profitable time but we see the light at the end of the tunnel."
Thank you so much for your generosity. Your help is highly appreciated! You really helped me and my family in very hard moment when we both with my husband are laid off. Thanks so much again
I wanted to thank you for the $1000 grant, which came as a wonderful surprise and a welcome relief from the tremendous headwinds we've faced in trying to secure relief for our small local restaurant. We were feeling discouraged but hadn't lost hope that assistance would come in some form, and that we would have a chance to get back on our feet.
Thank you so much, I can't express what I feel at this moment, things have gotten much harder since I applied for your grant, this may just help me get through and not lose my apartment and continue to wait for restaurants to reopen, I have never felt so desperate and helpless, thank you on behalf of my father as well. THANK YOU ALL WHO MAKE THIS POSSIBLE THANK YOU SO MUCH AND MAY YOU CONTINUE TO HELP OTHER LIKE MYSELF
I just received your check in the mail and I cannot thank you enough. I really needed this to pay bills and you have lightened the load tremendously. Thank you for your concern and generosity.
"I built a beautiful outdoor space that hopefully I have for past 2021. Not only the winter but it has allowed me to have a bigger more visible presence. [The grant program] is one of the true helpful Avenues that I have encountered. It seems that local government has no idea how small business runs. I wish they could walk a day in my in my shoes let alone a 35-year career."
"My name is Prudence Faklaris Owner and operator of Honeybear Cafe. I'd like to thank you from the bottom of my heart. This is going to help my struggling restaurant tremendously. We are more grateful than there are words for. Thank you again and hope you have a great holiday season."
"We are overjoyed to receive the grant as we are able to have guests sit on our patio which is crucial to survival since indoor dining is currently suspended. We would not have been able to purchase these heaters without the grant due to lack of funds."
I received my grant check. You can't begin to understand how grateful I am for the help. I am still not working but this will go on to help feed our family and help with the mortgage. I truly appreciate everything The Greg Hill Foundation has done to support restaurant workers like me and others all across the country. Thank you very much!
Thank You To Our Amazing Sponsors and Supporters